Construction Cluster Dundjer took part at the 8th INTERNATIONAL CONFERENCE "MODERN ACHIEVEMENTS IN CONSTRUCTION" with scientific paper about project SMART4NZEB. Due to Covid-19, Conference was on-line.
Programme International Conference Subotica 2021
SMART4NZEB-Paper for Subotica 2021 final
Dundjer at International Conference in Subotica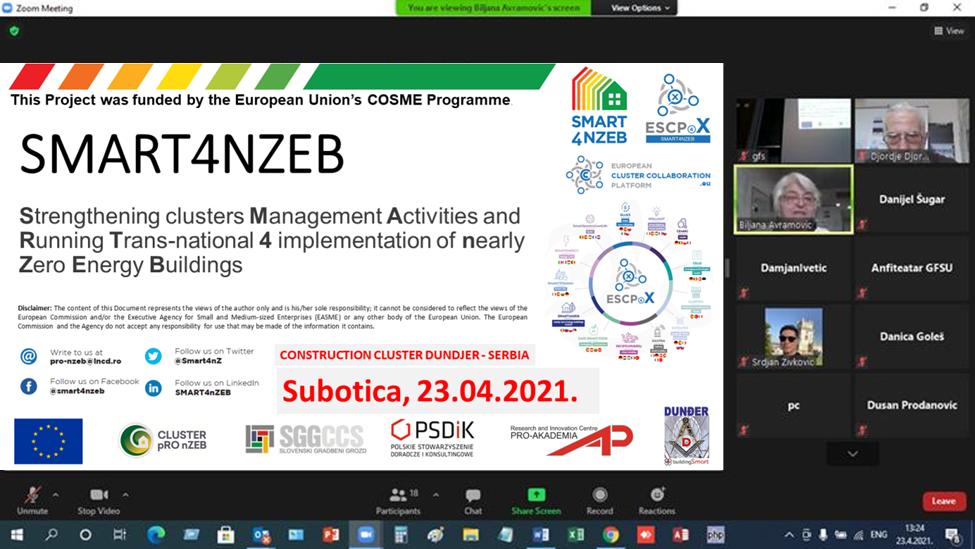 At this international conference project SMART4NZEB has been presented to the academic community of the region and shown to more than 50 University professors from Hungary, Malta, USA, Germany, United Kingdom, Romania, Netherland, Finland, and Western Balkan countries.
Members of the Scientific Board
Akademik Vladan Đorđević, Univerzitet u Beogradu, RS
Prof. emeritus Dubravka Bjegović, Sveučilište u Zagrebu, HR
Prof. emeritus Teodor Atanacković, Univerzitet u Novom Sadu, RS
Prof. dr Srđa Aleksić, Univerzitet Crne Gore, ME
Prof. dr György L. Balázs, University of Budapest, HU
Prof. dr Želјko Bačić, Sveučilište u Zagrebu, HR
Prof. dr Lino Bianco, University of Malta, MT
Prof. dr Jan Bujnak, University of Zilina, SK
Prof. dr Meri Cvetkovska, Univerzitet u Skoplјu, MK
Prof. dr Slaviša Trajković, Univerzitet u Nišu, RS
Prof. dr Marko Ivetić, Univerzitet u Beogradu, RS
Prof. dr Jovo Jarić, Universitet u Beogradu, RS
Prof. dr Milan Klјajin, Sveučilište Sjevep, HR
Prof. dr Miloš Knežević, Univerzitet Crne Gore, ME
Prof. dr Stjepan Lakušić, Sveučilište u Zagrebu, HR
Prof. dr Dragoslav Kuzmanović, Univerzitet u Beogradu, RS
Prof. dr Vladan Kuzmanović, Univerzitet u Beogradu, RS
Prof. dr Duško Lučić, Univerzitet Crne Gore, ME
Prof. dr János Major, Univerzitet u Debrecenu, HU
Prof. dr Damir Markulak, Sveučilište u Osijeku, HR
Prof. dr Siniša Mesarović, Univerzitet u Vašingtonu, USA
Prof. dr Siniša Mastelić-Ivić, Sveučilište u Zagrebu, HR
Prof. dr Petar Mitković, Univerzitet u Nišu, RS
Prof. dr Darko Moslavac, Univerzitet u Skoplјu, MK
Prof. dr Hartmut Pasternak, University of Brandenburg, GER
Prof. dr Edward Petzek, University of Timisoara, RO
Prof. dr Jasna Plavšić, Univerzitet u Beogradu, RS
Prof. dr Dušan Prodanović, Univerzitet u Beogradu, RS
Prof. dr Ivana Racetin, Sveučilište u Splitu, HR
Prof. dr Vlastimir Radonjanin, Univerzitet u Novom Sadu, RS
Prof. dr Marina Rakočević, Univerzitet Crne Gore, ME
Prof. dr Dragan Savić, University of Exeter, UK
Prof. dr Dan Sorin, University of Timisoara, RO
Prof. dr Zlatko Srbinovski, Univerzitet u Skoplјu, MK
Prof. dr Dragoslav Stojić, Univerzitet u Nišu, RS
Prof. dr Nedim Sulјić, Univerzitet u Tuzli, BA
Prof. dr Dragoslav Šumarac, Univerzitet u Beogradu, RS
Prof. dr Bilјana Šćepanović, Univerzitet Crne Gore, ME
Prof. dr Damir Varevac, Univerzitet u Osijeku, HR
Prof. dr Milan Velјković, Univerzitet u Delftu, NLD
Prof. dr Rade Vignjević, Brunel University, UK
Prof. dr Milica Vučinić Vasić, Univerzitet u Novom Sadu, RS
Prof. dr Petri Vuojala, University of Turku, FI
Prof. dr Mladen Zrinjski, Sveučilište u Zagrebu, HR
Prof. dr Irena Ištoka Otković, Sveučilište u Osijeku, HR
Prof. dr Ivan Lovrić, Sveučilište u Mostaru, BA
Prof. dr Malina Čvoro, Univerzitet u Banjoj Luci, BA
Prof. dr Vojkan Jovičić, Univerzitet u Ljublјani, SI
Prof. dr Zoran Krakutovski, Univerzitet Sv. Kiril i Metodij, MK
Assist. Prof. Dorin Radu, University of Transylvania, RO