Construction Cluster DUNDJER has organized, implemented and financed project «INNOVATIVE USE OF ICT IN CONSTRUCTION SECTOR» resulted with first pilot informative display based on LED technolgy with original software.
Građevinski klaster DUNĐER realizovao projekat «INOVATIVNO KORIŠĆENJE INFORMACIONIH TEHNOLOGIJA» u okviru koga je napravio prvi pilot informacioni displej na bazi led tehnologije sa sopstvenim originalnim softverom.
Tangram LED Small Display 5 x 3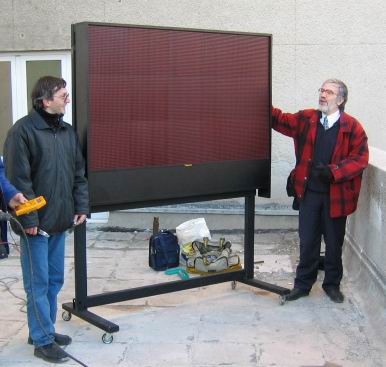 Dimensions:…………………….1640 x 1280 x 130 mmCharacteristics:
Weight: …………….……………………………cca60 kg
Display area: …………………..…..……1600 x 960 mm
Diagonal: ………………………………………1860 mm
LED lamps: .….…..….…….……….15,360 super bright
Sound: ………..…….…………………….2 x 20W stereo
Video: ………………..….………..………………..25 fps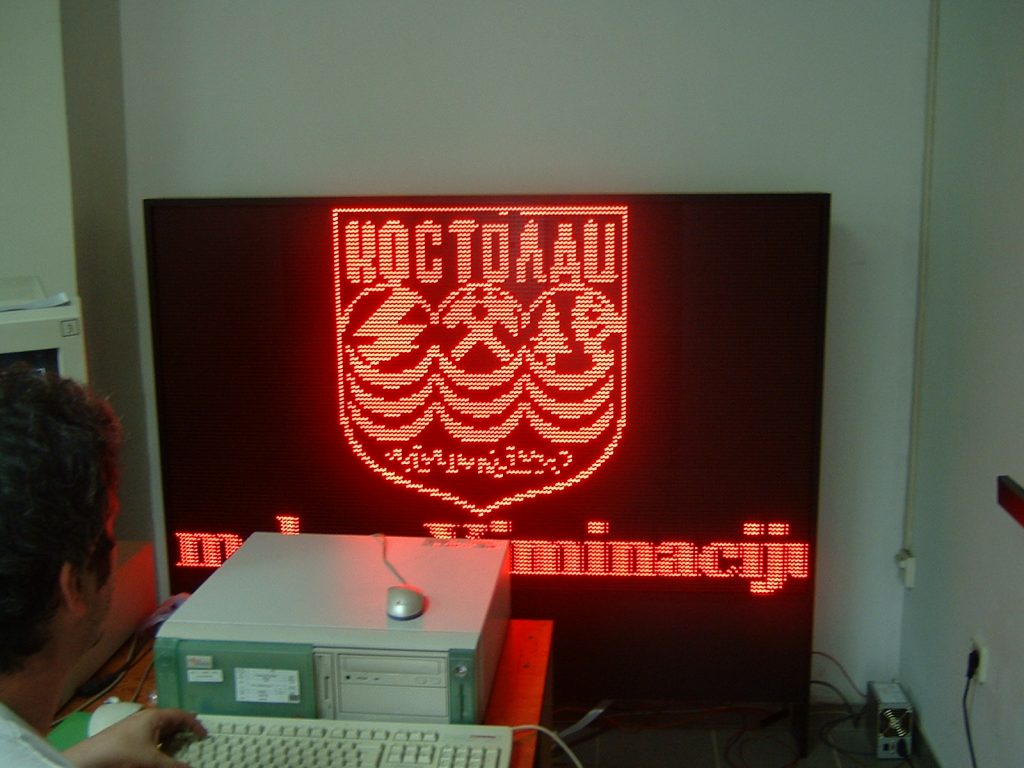 Engine: optional (P4 1.6GHz, 256MB RAM, 40GB HD, DVD, 100MB LAN TCP/IP)
Prva serija već razvijenih displaya ima standardnu dimenziju ekrana  1.60 x 0.96 m (dijagonala ekrana je 1.86 m, spoljna mera celog displaya je 1.64 x 1.28 m). U osnovnoj postavci ovaj display je monohromatski (crveno-crni) i ima rezoluciju 160 x 96 piksela (15.360 LED lampi) i tipa je INDOOR, znači za unutrašnju upotrebu (sportske hale, holovi, recepcije, itd).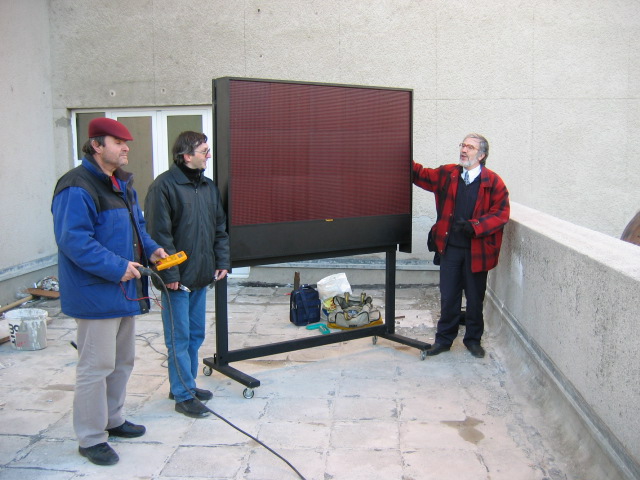 Ovaj display je podržan sopstvenim softverom za većinu popularnih sportova. Korisnik može i sam vrlo lako da ga programira.  Display se može vrlo efikasno upotrebiti za reklamne panoe i informacione table. Pored prikazivanja statičnih slika moguće je prikazivanje pripremljenih animacija  u praktično neograničenoj dužini, televizijskom brzinom (25 slika u sekundi).  Display se puni podacima preko sopstvenog računara, koji poseduje mrežni konektor (TCP/IP) i DVD uredjaj. Display ima i stereo zvuk (2 x 20W) za skretanje pažnje na neke sadržaje koje prikazuje.
Reference:  
Televizija Skoplje Makedonija,
Skupština Opštine  Kostolac
Železnice Srbije – ZOP Niš
Građevinsko-arhitektonski fakultet Niš
Mašinski fakultet Niš
Elektronski fakultet Niš
Tržno-poslovni centar KALČA Niš
Zavod za transfuziju krvi Niš
Contact: tel.018/522-812, 064/181-11-57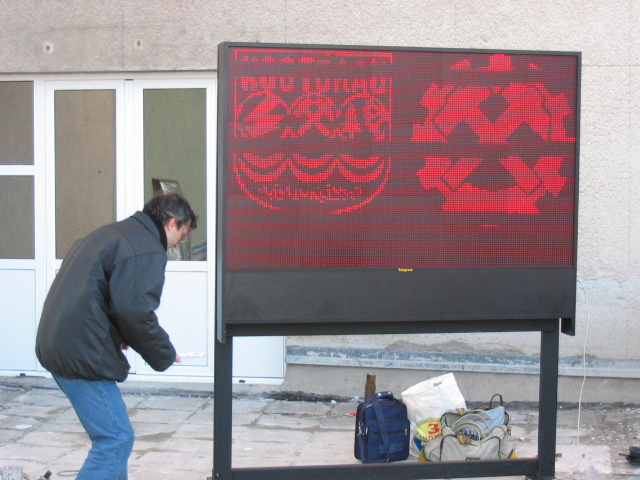 Informacioni sistem za praćenje događaja bazira se na sledećim hardverskim modulima:
 Sistem displeja za vizuelno prikazivanje TV informacija/Internet informacija/slike aktuelnog događaja rezultata/statistike (ako se radi o sportskom dogadjaju) u aktuelnom vremenu (indoor)
Informaciono-marketinški vizuelni sistem izvan OBJEKTA (out door sistem)
 Informacioni sistem je integralni deo audio i svetlosnog sistema OBJEKTA u kome se instalira.
Informacioni sistem je povezan sa:
 Internet mrežom
Satelitskom televizijom/satelitskim komunikacijama
Video-informacioni sistem je uključen u lokalnu računarsku mrežu i predaje i preuzima informacije iz nje.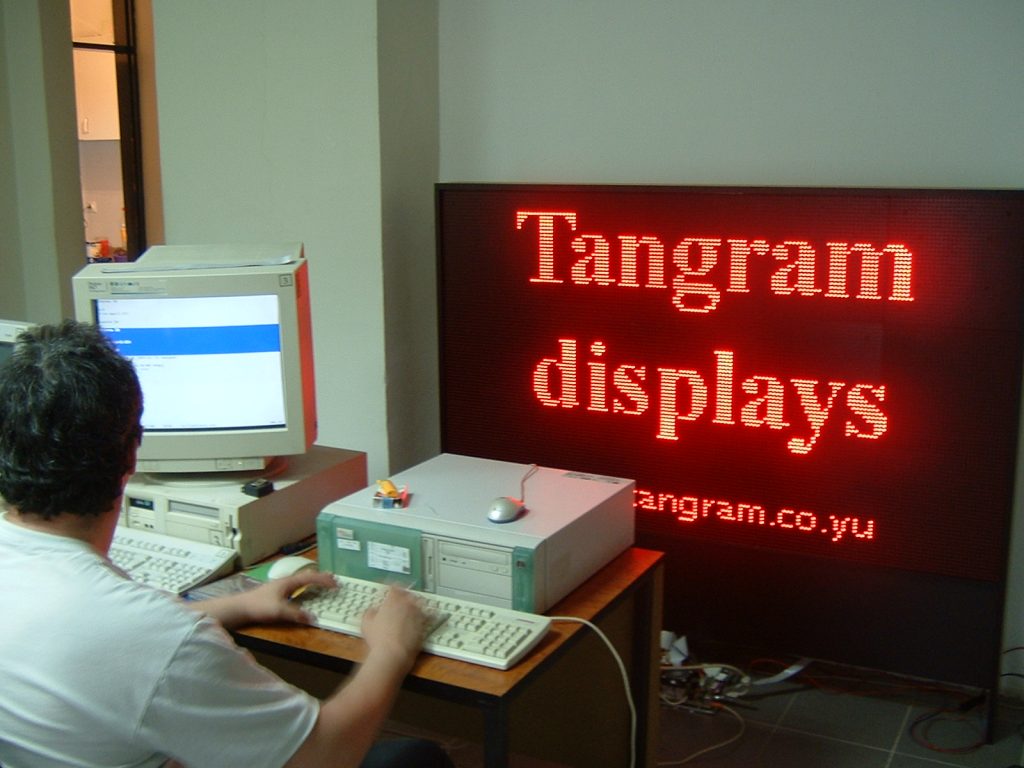 Osnovni uređaj za prikazivanje je displej (semafor) koji se sastoji od modula veličine 32 x 32cm sa 1024 diode (alternativno, za veće displeje, preporučuje se veličina modula 48 x 48cm sa diodama znatno veće svetlosne jačine). Displeji mogu biti proizvoljne pogodne veličine:
 (192 x 128cm)
(256 x 128cm)
(256 x 192cm)
(480 x 240cm)
 Displej mora da omogući prikazivanje računarskog signala kao i video i TV signala, odgovarajućeg rastera i to u realnom vremenu. Za te potrebe displej mora biti podržan posebnim računarom.Video ulaz može biti i CD/disketa/hard disk/video traka/TV signal/Web-kamera.
Napajanje displeja 220V/600W. Priključak je serijski (RS232),  LAN, USB, video (digital+composite), WEB kamera.
Rukovodeći tim:
PROF. DR. ĐORĐE ĐORĐEVIĆ            064/156-36-76
SRBISLAV NEŠIĆ                                    064/124-99-66          
MOMČILO MARKOVIĆ                        063/843-92-88
BILJANA AVRAMOVIĆ                        062/251-812